Baked Vegetable Ratatouille
JustJanS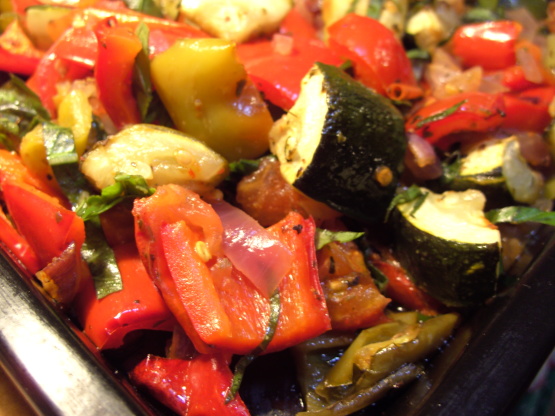 This is a great side to a nice steak, very colourful, flavoursome & simple to make too! You could add eggplant to this also but I don't like so it's not included in my recipe.

We really enjoyed this thanks Mandy. I made the whole recipe for the two of us but reduced the oil to three teaspoons of lemon infused olive oil. I didn't have a yellow capsicum, so used a big red and medium green one and a large zucc. I used 2 ripe regular tomatoes cut into a largish dice and they worked fine. Russ and I love eggplant, but the tiny supermarket here in town didn't have any. We didn't miss it at all. I seasoned with freshly ground black pepper and tossed through some shredded basil before serving. I made this again in the same week but as we had a vegetarian eating with us, I also crumbled over some feta cheese at the end. Yummo.
Place all vegetables in an ovenproof dish.
Drizzle with olive oil and sprinkle with garlic powder & Italian Herbs, mix well to coat vegetables.
Bake at 170.c for approx 1 hour until vegetables are tender, check after 1/2 hour and stir to ensure even browning.
If your vegetables are particularly juicy you may need to drain a bit of liquid off half way through cooking.