Baked Tarragon Orange Salmon
Parsley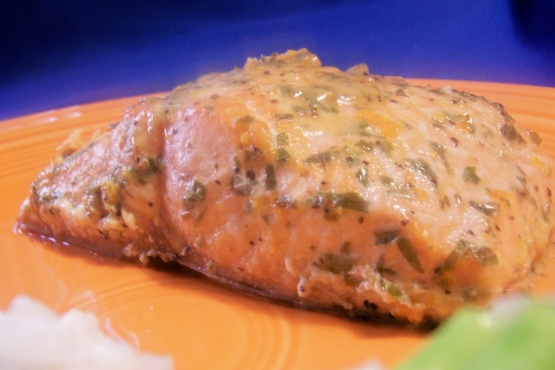 Adapted from a recipe in Hometown Cooking magazine. Nice for a dinner party. Garnish with orange slices.

Top Review by Flaca
Super easy and tasty. In southern CA - with family fruit trees - we always have an over abundance of the oranges so I was looking for a way to use them. This recipe for salmon was great! My husband enjoyed the light dinner - I think I may trot it out for company in the future! I did add a tablespoon of minced garlic and a dollop of mustard to the marinade for a bit more texture. All in all - it was great. Thanks for sharing.
Mix together orange zest, orange juice, oil, tarragon, ginger, salt, and pepper in a resealable plastic bag.
Add fish to bag, seal, and shake bag gently to coat.
Let marinate 3-4 hours-but no longer as your fish may start to toughen up if overmarinated.
Preheat oven to 450 F and bake fish in a casserole dish 8-12 minutes or until it has just started to flake easily with a fork.