Baked Eggs in Bacon Wraps
Prep 10 mins
Cook 20 mins

Bacon wrapped in each muffin cup around the sides,with an egg in each cup. When there were 8 to 10 around the kitchen table in the morning, it was an easy breakfast to prepare and bake. Serve with toast and fruit. I used to make 18 to 24 servings so that each person could have two if desired. I worked a full time job and made recipes that were quick, easy, good tasting and that allowed all of us to get to school and work on time. Now I would use turkey bacon. When I first created this recipe, turkey bacon was not available.
Directions
Preheat oven 375 degrees.
In medium frying pan fry bacon to soft transparent stage.
Drain on paper towels.
Line each slice around the side of each muffin cup. Ends may overlap.
Break egg directly in the center of each muffin cup. 12 cup muffin pan.
Slightly salt and pepper.
Cook 15 to 20 minutes.
Watch for whites and yolks to begin to set.
Take out with small spatula on a serving plate.
Serve with fork and knife.
If you want the tops to be basted,after ten minutes of cooking, baste each egg once with 1/2 teaspoon of water.
You can fry bacon the night before and drain and refrigerate for morning.
Most Helpful
So easy! Cook the bacon ahead of time according to the recipe, especially if you are preparing several. That is what makes it a time saver. You can add different things to them also. Finely (or not) chopped tomatoes, peppers, scallions, mushrooms etc. A little bit of grated cheese on top. Pepper only, if desired, as the salt from the bacon makes it salty to begin with.

These were so easy and delicious. What is better than eggs and bacon of a morning? Perfect for on the go breakfast's when you don't have time to make bacon and eggs!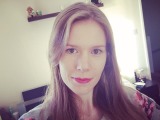 My Dad used to make baked eggs like this. He passed away a few years ago and I had forgotten about them until I saw your recipe. They are fantastic and very nostalgic for me. I baked them for 15 minutes, but will try 12 minutes next. We always had them with the yolks still a little soft. Thanks for all the happy memories!