Baked Eggs and Popped Beans
giani23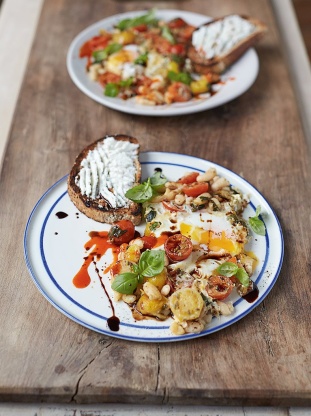 This is a modification of a Jamie Oliver recipe. I already have one eggs and beans (soyrizo and chickpeas) that everyone enjoys, and this sounds like it will work canned tomatoes and chilies rather than fresh and macerated.
Rinse and drain the beans, and add to a hot non-stick pan with the fennel seeds and a pinch of black pepper.
Occasionally shaking the pan, continue to fry until the skins pop.
Drain off some of the liquid in canned tomatoes and add to the pan with a squirt of lemon juice.
Add the eggs and cover, cooking until the eggs are the desired doneness, 3-4 minutes for soft and runny.
Serve with balsamic, hot sauce and/or your favorite condiments. Jamie suggested toast and ricotta on the side. Keeping this appropriate for a low gi meal, be careful about the bread.