Annacia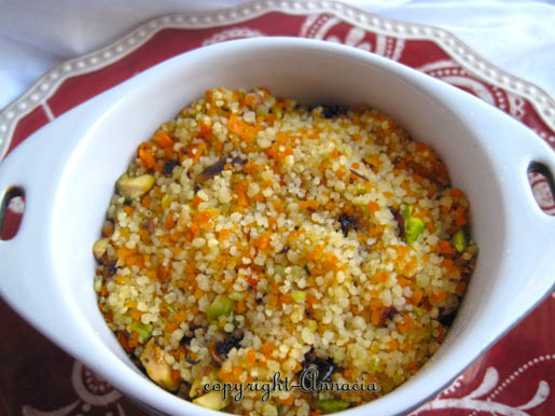 Very easy side dish or vegetarian dinner. Great way to use up carrots or leftover nuts.

I wasn't altogether sure how baked couscous was going to turn out, but, nothing ventured nothing gained. As I made a single serving in a small baking dish I set the oven at 400 for 25 mins and it came our perfect. I wasn't expecting the pistachio's to come out softened but that was very nice surprise. I've been baking cookies, quick breads, etc with nuts for many years and they have never softened like this. I used tri color couscous here. Topped this with Ras El Hanout seasoned chicken for a marvelous meal.
Preheat oven to 450 degrees Farenheit.
Mix together all ingredients in baking dish.
Cover.
Bake for 25-30 minutes or until carrots are done through.