Juenessa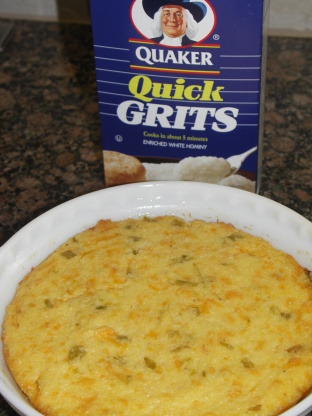 This recipe comes from Southern Living Magazine, January 2006. As you can see from the picture I posted with this recipe, I added some chopped green chilis to my grits. This is not in the original recipe and the grits are wonderful without them.

Yummy, love the green chilies.
Bring chicken broth to a boil in a medium saucepan over medium-high heat.
Gradually whisk in grits; bring to a boil.
Reduce heat to medium-low, and simmer, stirring occasionally, 10 minutes or until thickened.
Stir in Cheddar cheese, next 5 ingredients, and, if desired, Worcestershire sauce, stirring until cheese melts.
Remove from heat, and stir in eggs.
Pour grits into a lightly greased 2-quart or 11- x 8-inch baking dish.
Bake, uncovered, at 350º for 40 to 45 minutes or until golden and set.