Grace J.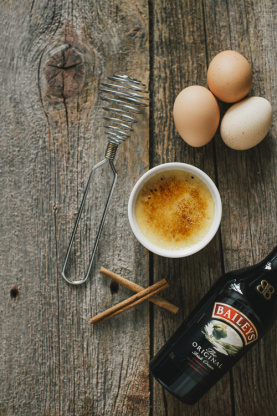 This recipe came from a WE-energy book compliments of chef Mark J. Olson, culinary arts instructor in Janesville, Wisconsin.

Top Review by seapod
Tasted great! Pretty easy to follow recipe. I wasn't sure if the water bath should be preheated. Another site said use boiling water so I did. Seemed to work well. Only my second time making creme brulee so I don't pretend to be an expert. They came out pretty well. The Bailey's flavor was on the subtle side. I will try increasing it by 50% next time. Also in some of mine I took Newman-Os without the filling and crushed them up and layered them on the bottom. Tasted pretty good. I bought a big blow torch at a hardware store for $25 including propane. Seems better than the small kitchen torch I used to have. Just don't turn it upside down while using.
Combine the heavy cream, Bailey's Irish Cream, vanilla and half the brown sugar in a heavy -bottomed saucepan. Bring just to a simmer.
Combine the egg yolks and rest of sugar in a a bowl. Temper them into the warm cream by adding a little cream to the egg mixture, stirring constantly.
When combined, add a bit more, and so on until warmed through.
When warm, add the entire egg mixture to the cream, and cook just until it begins to thicken. Do not exceed 175 degrees.
Fill custard cups 3/4 full and bake at 325 degree in a water bath until they turn gelatinous.
Remove from water bath and refrigerate at least 4 hours or overnight.
To serve: Sprinkle combined sugar over custard and burn with a torch, or place under a broiler until caramel brown.