Bacon Swiss Lettuce Salad
Parsley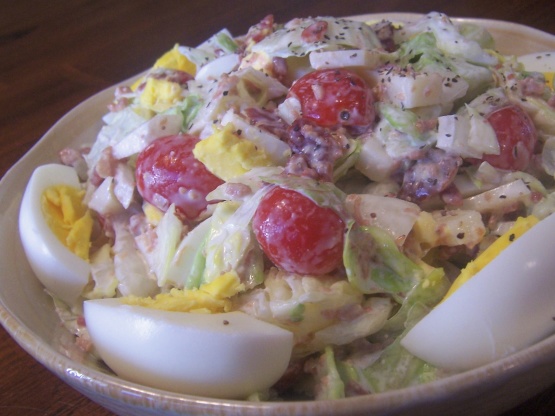 This is great for picnics and potlucks. It's a salad, but that doesn't mean it's healthy, low fat or low calorie. Guys tend to like this salad. There's just enough bacon and cheese in here to make them forget they're eating lettuce. ;) Prep time does not include cooking the bacon.
In a large bowl, toss together lettuce, onion, swiss cheese, bacon and chopped eggs.
In a seperate small bowl, whisk together mayonnaise, vinegar, sugar, salt and pepper until smooth.
Pour dressing over the salad mixture; toss well to evenly coat.
If desired, garnish with sliced hb eggs.
Chill until ready to serve.