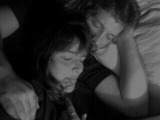 This is one of our favorite shots. It's smooth, and the aftertaste is delightful! For a quick reference to memory, think 'KGB' which are the initials of the ingredients. The B52 is a 'bomber' as it hits you before you know it. We love it with Budweiser chasers. Cheers. :)
Directions
To a shotglass, begin with the Grand Marnier and fill the glass 1/3 full.
Take the Bailey's, and slowly pour down the inside of the glass. It will flow under the Grand Marnier.
Next, Do the same with the Kaluha as you did for the Bailey's. It will flow under the Baileys.
This will create a beautifully layered shot that you drink straight down. It's easiest to pour down the inside of the glass if you have pour spouts inserted in the bottles. Practice makes perfect, but drink too many of them and your aim will be off. LOL!
Most Helpful
Love this drink! Used to be my go to in the 80s and 90s. I went to Australia in 1986 and shared the recipe with every bar I entered. It was unheard of over there then, but it's clearly grown in popularity. Thanks for sharing the best way to make one!

This is a very yummy sipping cocktail. I love Kahlua and had to try this, and I'm glad I did. It was very smooth and quite tasty. My Grand Marnier blended into the Bailey's layer, but that didn't effect the taste at all. YUMMY!