gailanng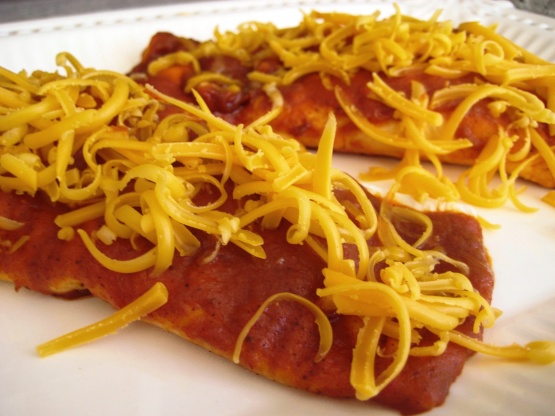 The best enchiladas I've ever had- really, the only ones I've ever liked! I crave these, and usually make them at least two times a month. You can easily use shredded chicken instead of ground beef, and feel free to use corn tortillas instead of flour...it's the sauce that make these enchiladas so AWESOME!

I just made these for lunch. My in-laws and my guy really liked them. Thanks for a great recipe! I'll be making these again! Update: I LOVE this sauce. It is the best I've found compared to that of my grandma's. We used corn tortilla like a traditional enchilada does BUT I veganized everything. Using dairy free butter, tofu instead of beef, and I sub'd the cheese with a vegan cheese. It's been years since I've had an enchilada but this sure tasted like and original I would've eaten anywhere else. It was perfect.
Preheat oven to 375 degrees.
To make the sauce: Melt butter in a sauce pan, then add chili powder, flour, and salt. Stir until smooth.
Add garlic and stir in water and tomato paste (may have to use a whisk). Simmer until thick.
To make the filling: Cook ground beef with the onion, then drain. Add taco seasoning. Add approximately 1/2 cup of enchilada sauce to the meat.
Place the beef and cheese in each tortilla and roll up. Pour the enchilada sauce on top and bake for 25 minutes.