Addictive Green Enchiladas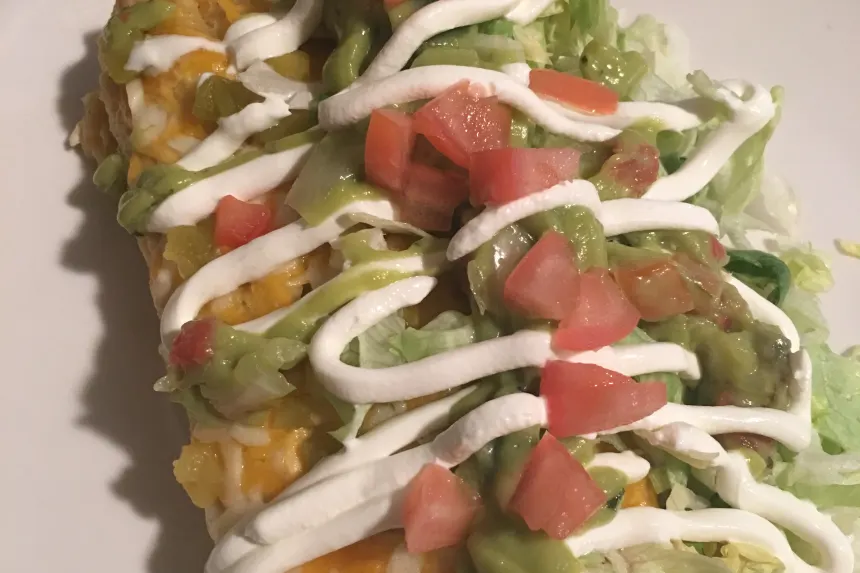 photo by Lizeth F.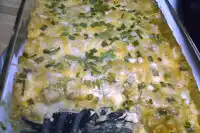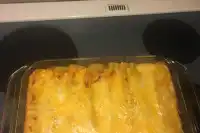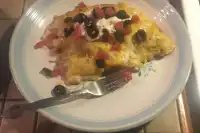 Ready In:

1hr

Ingredients:

7
directions
Preheat oven to 350.
Pour 2 tablespoons green enchilada sauce into the bottom of a 13x9 glass baking dish.
In large bowl, mix shredded chicken, green chilis, cream cheese, onions, 1/2 cup shredded cheese, and 2 tablespoons of the green enchilada sauce.
Spoon mixture evenly into corn tortillas and roll up.
Line up tortillas, touching each other, fitting as many tortillas as you can (but not on top of eachother.).
Pour remaining enchilada sauce over rolled tortillas.
Sprinkle remaining shredded cheese over sauce and cover the 13x9 with foil.
Bake in a 350 degree preheated oven for 40 minutes.
Remove from oven and let sit at room temp for 10 minutes before serving.
Questions & Replies

I'm going to try this recipe. Sounds yummy! Question: I've tried a few green enchilada recipes but the tortillas always come out too soft & a little mushy. How do I correct this? Am I over-cooking them? Am I using the wrong type of corn tortillas or covering them with too much sauce? How can I make them better? Thank you.

 
Reviews
Wow! These were fantastic. I used a large can (28 oz.) of green enchilada sauce and it was plenty. I used small white corn tortillas and had a hard time rolling them also. I tried them warmed and cold...they kept cracking. I didn't stress too much because I knew they would be covered with sauce and cheese. I had a ton of filling and ended up using 3 flour tortillas because I used my whole package of corn ones. All that being said...We shared the leftovers with our friends the next day and they inhaled them! They wanted the recipe and were ready to make them the next day! Great recipe, thanks for sharing.

 

Wow, these are the best enchiladas I've ever made! They are so delicious, even with using fat free cream cheese and no cheese to cut down on the fat. I have made them many times now, they ended up in my best of the year cookbook the first time I made them a couple of years ago. I cook the chicken breasts in the enchilada sauce in the crock pot, and then bake the enchiladas for 20 minutes, since everything is piping hot. I am really partial to the crock pot method, since it makes the chicken so moist and it just falls apart. Tonight I also added 4 diced potatoes to the crock pot for the filling as well, and it was a sensational addition! I usually use two whole onions and double the chillies, and they give it a nice little kick. These are great served with a little nonfat sour cream on top too. Absolutely divine! They serve 6-8 for us.

 

These were very yummy. We really enjoyed the addition of the cream cheese. I did saute the onions first. I added cumin and 1 fresh jalapeno and would add more next time or use pickled jalapenos. I used flour tortillas as a matter of preference and created 9 enchiladas. I cooked 5 and froze 4. Will update with results from the freezing. I would like to try making the tomatillo sauce next time. And there will definitely be a next time. Thanks for sharing!