Authentic Chinese Pork Chow Mein
Leslie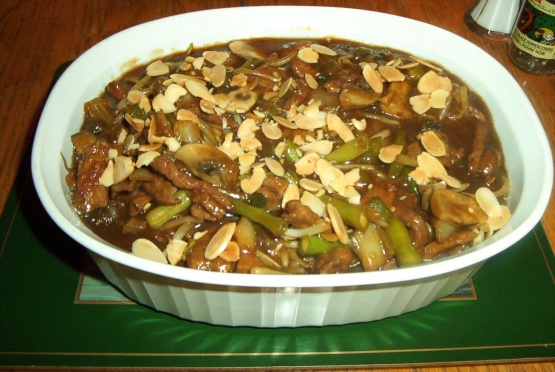 No need to order in chow mein when you can make it yourself, this is just as good if not even better than any Chinese restaurant or take-out -- if you prefer more flavor then add in more soy sauce --- if desired after the pork is finished browning you may add in fresh minced garlic and stir for 2 minutes, this is only optional --- you will love this!

This is the recipe that introduced me to RecipeZaar. It is my now my go-to recipe for chow mein. I've made this at least four times and it is always excellent. The recipe is versatile - you can vary the veggies based on what you have on hand and what you like. Julienned carrots, cabbage, green peppers, you name it. The secret seems to be the fairly long braise of the browned pork, covered, in the water/soy sauce mixture. I usually use boneless pork loin when I make this and you'd think this would be mercilessly overcooking it, but it comes out great every time, and would probably also work with tougher pork like sirloin or possibly even butt if you cut it small enough. The other secret, of course, is the molasses. I'd rate this as one of the best two or three recipes I've found on the internet, and the net's been my cookbook for over a decade now.
Cut meat into thin strips.
Combine 2 tbsp cornstarch with sugar, blend in 1 tbsp soy sauce and 2 tbsp oil; mix to blend.
Pour over pork strips; toss well to coat, marinade in mixture for 20 minutes.
In a wok or large saute pan heat 2 tablespoons shortening; brown the meat lightly on all sides in hot shortening (after browning the pork you may add in chopped garlic and saute for 2 minutes if desired).
Add remaining 4 tbsp soy sauce and 1-1/2 cups water; simmer, covered on low heat for 45 minutes.
Add in the celery and onions; simmer for 15 minutes more.
In a small bowl, blend in remaining cornstarch with 1/4 cup water; stir into meat mixture.
Add molasses, water chestnuts, bean sprouts and mushrooms; heat thoroughly.
Season with salt and pepper.
Garnish with chopped green onions and toasted almonds.