Aunt Sue's Smoky Cream Cheese Cheese Ball
flower7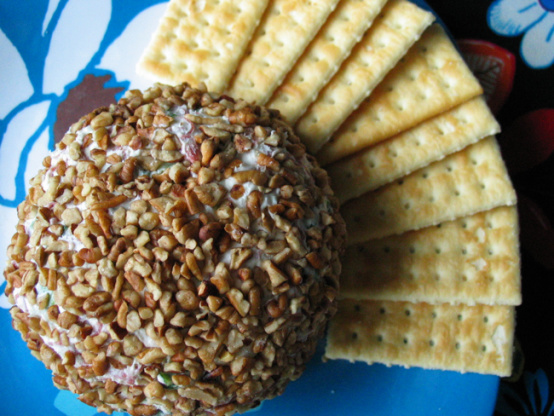 A family favorite for years and years: it's just not Christmas/New Years/Easter without Aunt Sue's cheese ball. She borrowed the recipe from a co-worker at the telephone company YEARS ago and has adopted it as her own. Easy. Quick. DELISH. If you want a fancier version, use cream cheese, worchester, accent, green onions....but substitute proscuito for the beef and add chopped roasted red peppers and minced black olives.

Delicious! I left out the Accent seasoning. I think the pkg size for the beef is a mistake as the Buddig beef comes in a 2 oz not 12 oz pkg (and 2 oz was plenty!) I used pecan chips instead of walnuts and low-fat cheese. I also refrigerated the cheese ball overnight before rolling in the nuts which made it less messy of a process. Thanks for sharing!
Leave cream cheese out of fridge to soften about 20 minutes.
Finely chop green onions and Buddig Beef.
Mix onions, beef, Worchester, and softened cream cheese thouroughly.
Form into ball.
Roll ball in walnuts.
Serve with Ritz Crackers.