Aunt Alta's Crazy Crust Pizza
teresas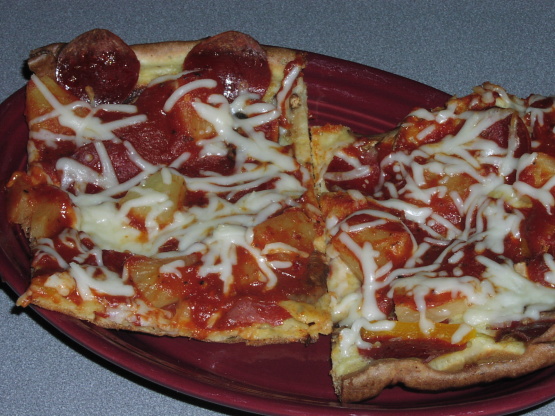 Aunt Alta really loved pizza. I found this recipe tucked into her collection, which she had clipped out of a Pillsbury ad. The crust is not traditional at all...it is very thin and will not taste like a typical risen pizza crust. She made this for me when I visited her as a young teen. She used the round pizza plate, I only have a jelly roll pan. Note:You may replace the sauce ingredients with 1- 1 1/2 cups of prepared pizza sauce, if desired. My Aunt's original version was quite mild and contained no garlic, but I like lots of garlic.
Crust Batter

236.59

ml all-purpose flour

4.92

ml salt

4.92

ml oregano or 4.92 ml italian seasoning

0.59

ml black pepper

2

large eggs, lightly beaten

158.51

ml skim milk

Sauce (make extra if you prefer more sauce)

226.79

g can tomato sauce (plain)

9.85

ml oregano

1.23

ml black pepper

1.23-2.46

ml salt, to taste

1.23

ml garlic powder, to taste

0.59

ml dreid red pepper flakes, to taste (optional)

Topping

453.59

g ground Italian sausage, cooked and drained or 236.59 ml pepperoni, thinly sliced

59.14

ml onion, chopped (optional)

59.14

ml green bell pepper, chopped (optional)

113.39

g can mushrooms, sliced, drained (optional)

9.85-14.78

ml fresh garlic, minced (optional)

236.59

ml mozzarella cheese, shredded (4 ounces in weight)
Preheat oven to 425°F.
Have ready a 12-14" round pizza pan with a rim (or use a 10x15" jelly roll pan), lightly greased with olive oil.
Combine flour, salt, oregano, pepper, eggs, and mikl until smooth.
Pour crust batter into the pan, tilting the pan to coat evenly; you want the entire bottom covered and it will appear to be very very low and thin.
Sprinkle cooked sausage (or pepperoni slices) all over the batter, then do the same with the garlic,onions,green peppers, and mushrooms if using, but DO NOT ADD SAUCE OR CHEESE YET.
Bake on a low rack in preheated 425 F oven for 25-30 minutes until deep golden brown (to give it a crispy crust).
Meanwhile mix together the sauce ingredients.
When pizza is ready, drizzle the sauce over the pizza as evenly as you can and sprinkle cheese over the top, bearing in mind that if you add extra sauce/cheese the pizza will not be as crispy.
Bake another 10-15 minutes or until sauce is heated through and cheese has melted.
Cut into squares and serve, this is going to have a very thin crust and depending on how many toppings you added, might be a bit floppy so have a fork handy (my aunt always ate pizza with a fork).