Asparagus With Lemon Caper Vinaigrette
Nimz1466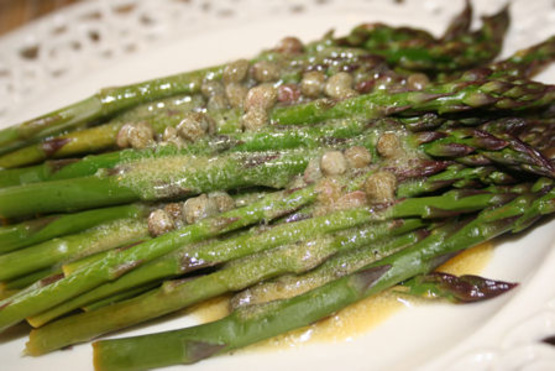 Family Fave adapted from GH Best Recipes 1998. This is great with fish, the vinaigrette complements any mild white fish, too. Also a good, quick make-ahead dish for a dinner party, it will keep in the fridge for a couple hours. Also doubles or triples easily.
Trim ends of asparagus and place spears in a large skillet.
Cover asparagus with water and add salt and 1 Tbsp lemon juice.
Bring to a boil, then reduce heat to simmer about 7 minutes until crisp-tender.
Remove from heat and run under cold water to stop cooking.
Prepare vinaigrette:.
Combine remaining lemon juice, capers, mustard, sugar, and pepper. (Capers may be chopped or left whole, it's up to you. I usually chop them up a little.).
Slowly drizzle in oil while whisking rapidly, allowing vinaigrette to thicken slightly.
Toss asparagus with vinaigrette and serve.
May be refrigerated and served within a couple hours, or served warm immediately.