StuYoung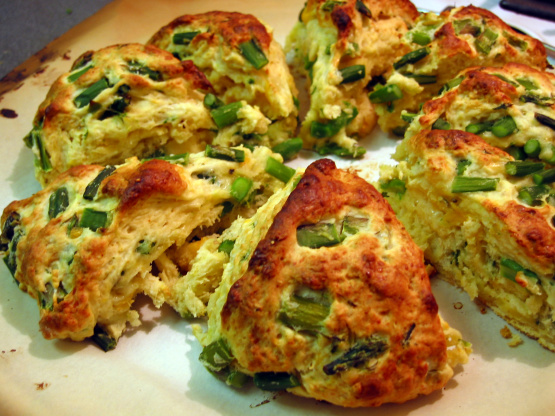 This recipe is adapted from Cooking Light. They are yummy for breakfast or with a soup.

These were definitely delicious when they came out of the oven. My only complaint (and hence 4-star) is that they did not stay as tasty over time. Something about the asparagus; it was either too moist, or if you toasted them, too tough. Anyway, still worth making again.
In a saucepan, bring 1/2 inch of water to a boil. Add the asparagus pieces, cover the pot and let them boil for 3 minutes. Drain asparagus and rinse with cold water, drain well and set aside.
In a bowl, mix flour, baking powder, salt, baking soda, pepper, dill and cayenne. Cut in butter until the mixture resembles coarse crumbs. Stir in yogurt until moistened. Stir in cheese and asparagus.
Turn onto a floured surface and knead 10 times. Transfer to a baking sheet covered with cooking spray. Pat into a 9-in circle, cut into 8 wedges (not all the way).
Bake at 425°F for 18-20 minutes. Cool on a wire rack.