Derf2440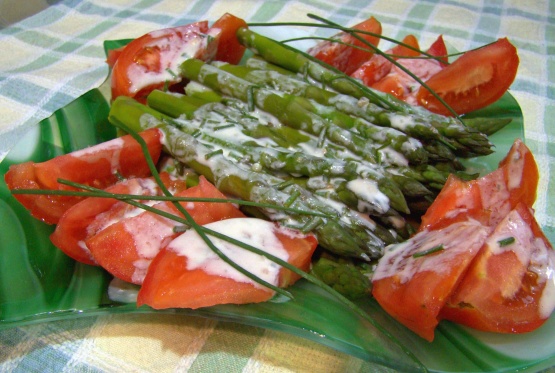 Another yummy lowfat recipe from "In The Kitchen With Rosie," the cookbook by Oprah's personal chef. I have never used the fennel leaves, so if you try it, tell me how it tastes!

I was looking for a different way to serve asparagus, and this hit the spot. It has a subtle flavor that gives the vegetables interest without being too fussy. It is easy to make, can be made in advance, and doesn't require unusual ingredients. I toasted the sesame seeds in a toaster oven and watched them very closely.
Bring water to a boil in the bottom of a steamer.
Fit the basket in the steamer.
Steam the asparagus over medium-high heat for about 6 minutes, until bright green and tender.
Remove from heat and let asparagus cool in the steamer.
Combine yogurt and blue cheese in a small saucepan.
Warm over low heat for 1 to 2 minutes, whisking constantly, just until the blue cheese has melted.
Remove pan from the heat and whisk in the lemon juice, chives, and garlic.
Arrange the asparagus in the center of a serving plate and ring with the tomato wedges.
Drizzle the yogurt dressing over the asparagus.
Sprinkle with salt and pepper and garnish with fennel leaves.