Derf2440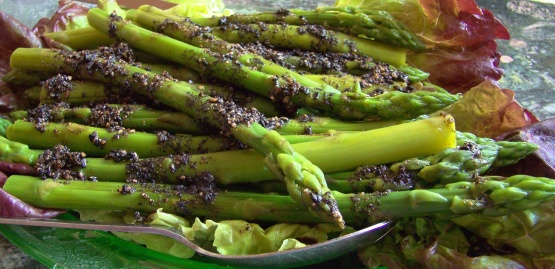 This salad has a distinct Asian influence and is always popular.

We really, really liked this. The sesane seeds imparted an almost peanuty flavour that was unusual and delicious. Served with stuffed chicken breasts and potato puffs. Thanks for posting it.
If using beans, top, tail and cut diagonally into even lengths.
Snap the tough ends off the asparagus and discard.
Cut into long diagonal slices.
Blanch asparagus/beans in boiling water for 1 to 2 minutes until tender but still crisp.
Drain, place in a bowl and cover immediately with stock.
Leave to cool in the stock.
Toast sesame seeds in a dry pan over a moderate heat, stirring until all are evenly golden brown.
Cool on a plate then crush in a blender or mortar and pestle.
Mix in remaining ingredients.
Drain vegetables well and, just before serving, pour over dressing.