Asparagus Melt With Pesto Spread
Ms B.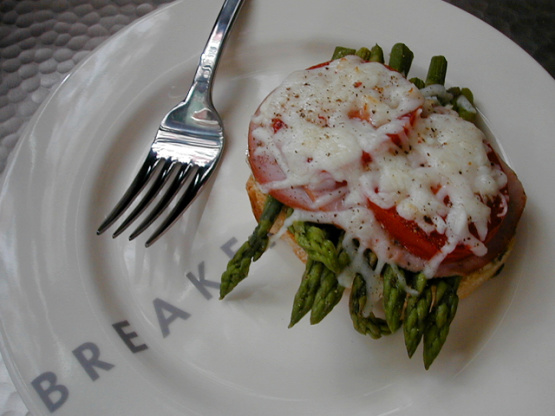 From CookingLight.com. I seldom have sliced mozzarella cheese on hand and used shredded when I prepared this.
Snap off tough ends of asparagus. Steam, covered, 2 minutes or until crisp-tender.
Preheat broiler.
Combine mayonnaise and pesto in a bowl, and stir with a whisk.
Spread 2 tablespoons pesto mixture onto 1 side of each bread slice.
Layer each slice with 8 asparagus spears, 1 ham slice, 2 tomato slices, and 1 cheese slice.
Place on a baking sheet; broil 3 minutes or until cheese melts.
Sprinkle with pepper.