Asparagus & Chicken Salad (Schwetzinger Spargelsalat)
-Sheri-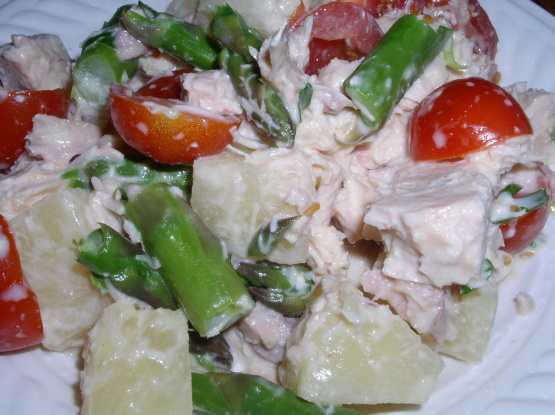 The unusual combination of pineapple and asparagus makes this German chicken salad distintive and appealing. Though it is untried, I plan to make it soon and add my own tweaks. Note the brief preparation time does not include cooking the chicken or asparagus. Submitted for 'Zaar World Tour.

This is delicious. I changed the proportions a little bit so that there would be more of a 1 to 1 ratio between the tomatoes, asparagus, pineapple, and chicken. I have made it twice now. It is delicious. In prepping the chicken I cooked it in Cooking White Wine. That went really well.
Combine mayonnaise, vinegar, parsley, calt and sugar. Let stand for 5-10 minutes.
Combine cubed chicken, pineapple and tomatoes in a large bowl. Add the dressing mix, tossing lightly
Arrange half the Asparagus in a large salad bowl or serving platter. Spoon chicken salad on top. Scatter remaining asparagus on top.