Asparagus & Chicken "Quesadillas" W/ Sweet Rum Dip
Rita1652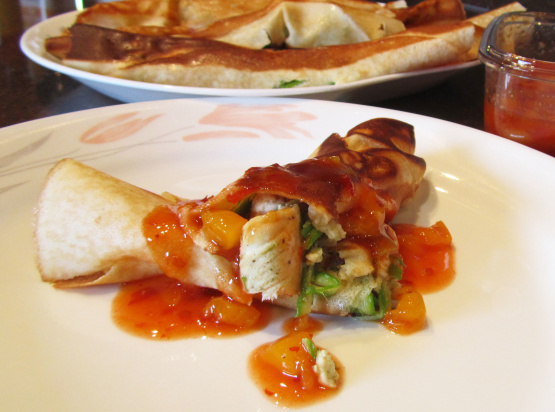 This is truly an international take on the classic quesadilla, filled with some of my favorite things! Throwing caution to the wind, its a blend of French, Asian and Carribean ingredients with a nod to the humble yet grand quesadilla. To keep the ingredient list and directions short, I've used store-bought crepes. But crepes are really quick and easy to make - so do yourself a favor and use one of the many great crepe recipes on this site! My personal preference for the cheese is brie (soooo good with the sweet sauce!) but Mozzarella is probably really good,too! This recipe was created for Raiders of the Lost Pantry game, 2013. Time does not include cooking the chicken filet. As an appetizer, these can be made in advance of your party and pan-toasted at the last minute.

This recipe makes a lot of dipping sauce easily can be cut in half or even to one quarter. I bought Melissa crepes very delicate and I couldn`t fold in half the half again. Just broke apart. so I rolled them. I did have to use oil to saute the chicken bringing the fat calories higher in the recipe. I also seasoned them with a dry herb mixture. Enjoyed the brie using 6 ounces More fat.These were tasty but presentation was just OK till holding and then sloppy. 3-4 stars would have worked better (5 stars) if tortillas would have been used.
FOR THE SWEET RUM DIPPING SAUCE:.
Place all ingredients in a small food processing bowl. Pulse until peaches are still somewhat chunky. Grate some nutmeg over and stir to combine. Set aside.
FOR THE CREPES:.
Place the garlic and the olive oil in a small skillet, sauté for 2 minutes. Don't let it burn!
Add the shaved asparagus and sauté for 2-3 minutes, until it turns bright green. Season with salt and pepper to taste. Remove from pan and set aside.
In an 8 inch skillet, heat the crepes. Stack on a piece of parchment paper until all are heated through.
Place a couple of spoonfuls of the asparagus on the bottom half of a crepe. Place sliced brie over the asparagus, or if using mozzarella, sprinkle it over the asparagus. Then top with thinly sliced chicken.
Fold the empty half over the filling. Then fold it in half again so it ends up being a quarter circle.
Lightly grease the skillet and heat over a medium flame. When hot, cook each crepe until both sides are golden brown and the cheese has melted.
Serve with a side of the Sweet Rum Dipping Sauce. Serving size is 1 as an appetizer, or two as a main course.