Gaia22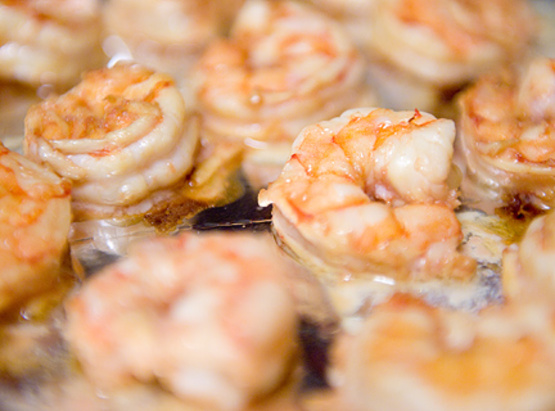 This recipe is from Appeal magazine from one of Vancouver's celebrated chefs John Bishop. It is excellent, very tasty and easy to do. You can serve this as an appetizer and it would serve up to 10.

Top Review by Gaia22
Rich, easy marinade that's quick to prepare with tasty results. I chose the Hoisin sauce & to broil them. The broiling worked just fine. I split the recipe in half, but still used a full 1 clove of garlic for the 16 prawns. I would not recommend skipping the use of the sesame oil. The sesame oil really helped to balance out the marinade flavors in the cooking. UPDATE: I reserved a few last night for lunch today to see how they would fair served cold. What a pleasant surprise -- I think these were meant to be served cold, Asian salad style!! Shrimp are hardier & tastier cold and these could handle the rich marinade much better today [good, but just a little too rich when hot last night I found]. I'll be making this again with the explicit purpose of serving them cold the next day. Increasing the rating from 4 stars to 5 stars when served nice & cold! Thanks [Made & Reviewed for Unrated Asian Recipe Tag]
Peel the prawns and marinate them with the garlic, ginger, teriaki, hoisin (or oyster)& lime juice, covered, in the fridge for apprx 2 hours.
Just before BBQ (or broiling) and heat (BBQ medium-high heat, broiler about 6" from heat).
Use 2 parallel wooden skewers for each brochette (this prevents them from flopping and you can cook them evenly on both sides).
Baste the prawns with the sesame seed oil.
Place a quarter wedge of lime on the end of each brochette.
BBQ Or broil for apprx 5 minutes each side, the time depends on the size of the prawn.
do not over cook they are done when they turn pink To serve garnish with the cilantro.