Artichoke--Chicken Casserole
Parsley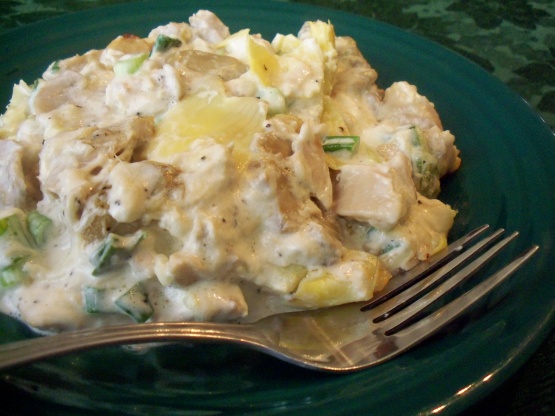 This is an easy dish, but nice enough for company. My bunko group raved about it! Serve it with a Ceasar salad and crusty bread. I got it from Meals.com - no author was listed.

This was a very easy recipe to follow. We really enjoyed the dish. The white wine added a wonderful flavor. I cooked the chicken in a crock pot all day while at work. Then, shredded the chicken when I got home. Very easy!
Preheat oven to 350 degrees.
Cook chicken (any way you choose),cool and shred.
Saute mushrooms and green onions in butter.
Sprinkle with garlic salt.
In a bowl, combine chicken, artichokes, and mushrooms/onions.
In another bowl, combine wine, salt, pepper, mayonnaise, sour cream, and parmesan Cheese.
Fold into the chicken mixture and sprinkle with Parmesan cheese.
Place mixture into a 2 quart casserole.
Bake for 30 minutes.