JustJanS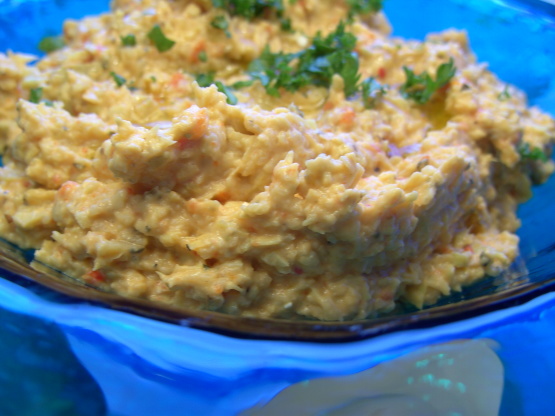 This tart and tangy appetizer is made from finely chopped artichokes combined with other tasty Greek favorites.

Delicious dip and so easy to make. I have industrial-size jars of artichoke hearts and pimento, so I guessed a bit on quantities. I used about 10 ounces of artichokes and 1 1/'2 ounces of pimento -- figuring that drained weight is about 60-70 per cent of the actual posted weight. I still thought something was lacking so added about 1/4 cup of flat-leaf parsley and a very generous hit of salt. Sorry that I missed getting a photo. I finished making it just before I was dashing out the door to take it to an event. Then I let someone else take home the leftovers. I hope to make it again soon and post a photo. Thanks for posting.
Combine all ingredients in a food processor. Process with a steel blade until mixture is finely chopped.
Chill several hours or overnight.
Serve cold.