Rita1652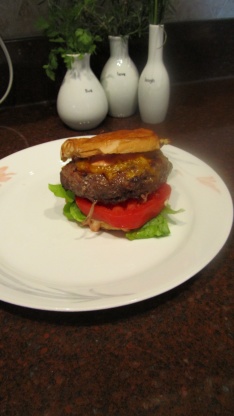 From Cardamom & Coriander by Simon Morris. Another yummy bit from my new love of Indian food and ZWT6. Little appetizer Indian burger patties which are best eaten grilled outside. Another recipe I read suggested to have the beef ground three times to improve the mouth feel of the patties. Seems like a great idea to me. Ask your butcher.

I thought the meat had a great aromatic flavor and my first time using methi leaves. I did toss in just a bit of lemon juice jsut because I like acid in my kofta and left out the eggs. I made them inside on the non stick griddle. Everyone loved. Thanks for a new Kofta recipe! Made for ZWT 6 by a fellow Looney Spoon :)
Mix beef with onion, garlic and chili. Add mustard, garam masala, salt and eggs. Mix until thouroughly blended and bound together. Add the coriander and methi. mix just to combine.
Divide mixture in half and divide each half into 12 equal portions. Shape into small patties.
Brush lightly with oil and grill about 2-3 minutes on each side or until browned and cooked through.
Alternately put a small amount of oil in a frying pan and cook until browned.