Armenian Pickles (Tourshi)
manushag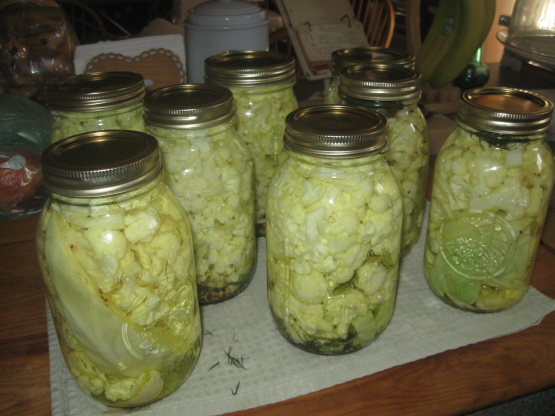 Spicy and delicious dill vegetable pickles. They are easy to make...I usually make a 5 gallon jug in the fall and give them away to my friends. They are usually ready by Thanksgiving. You can also use kirby cucumbers, peppers, hot or sweet, green tomatoes or any combination you like.
Sterilize 8 large mouth quart jars and lids.
Prepare vegetables and divide among eight quart jars .I use raw vegetables because I like the crunch. Stuff jars tightly with vegetables, adding carrots and green beans into the corners, pushing down with a wooden spoon. Put two sprigs of dill and two cloves of garlic in each jar with one or more teaspoons of pickling spice, to taste.( I use about 1-1/2 tsps.) Add one or more hot peppers to each jar if you like spicy pickles.
Boil water, vinegar, salt and turmeric.
Pour into each jar to fill and seal.
Store in a cool dry place for four to six weeks.