Carianne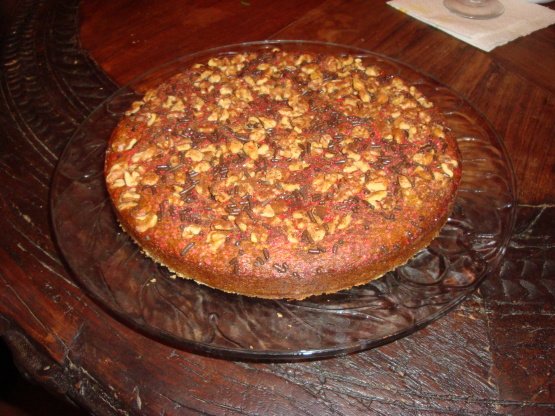 Armenia is famous for its sweet and spicy nutmeg cake. It has a crunchy base and light cake topping, and tastes delicious. This recipe was given to me 16 years ago by the mother of one of my son's kindergarten friends. Tried and true!

Daydream, I may not be a Home Coming Queen - but you've made me a DAYDREAM BELIEVER!!! This cake is incredibly tasty - sweet and spicy (but not toooo spicy)! I believe this cake could serve as an all-purpose cake: breakfast, snack or even as a delicious dessert. I used the dark brown sugar, as you recommended - the sour cream, pecans and the optional cinnamon on top. Daydream, your cake is so versatile, it is my opinion you have made a MONKEE out of all other cakes! Thank you for sharing this wonderful recipe with all of us!
Preheat oven to 350 degrees F.
Grease a 9 inch square pan, and line with baking paper if desired.
Combine flour, baking powder and salt, then rub in the butter until the mixture resembles fine breadcrumbs.
You can do this with the tips of your fingers or in your food processor.
Then add sugar, and combine.
Press half this mixture evenly over the base of the prepared cake pan, and reserve other half.
Dissolve baking soda in milk (or sour cream), add beaten egg and nutmeg, then add to reserved mixture.
Combine well.
Pour into pan and sprinkle nuts, and some cinnamon if desired, over top.
Bake in oven for 45 minutes to 60 minutes (start testing for doneness with a skewer after about 45 minutes).
Allow to stand for 10 minutes before turning onto a wire rack to cool.