Prose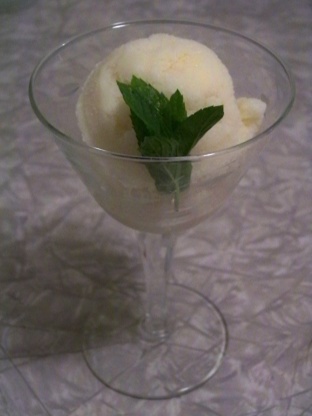 This is a wonderful dessert with an unusual ingredient! Adpapted from a recipe by Cooking Light magazine. Prep time is freeze time.

Top Review by Prose
This is awesome! It's SO easy to throw together and SO delicious! Very refreshing! My husband really enjoyed it too. The tofu makes it surprisingly creamy, but way healthier than traditional ice cream. I will definitely make this again. I liked the other reviewer's idea of using those frozen Bacardi mixers---maybe the mojito flavor. You could even add a little rum or tequila (just for the flavor, of course :) ) Really, you could use any flavor of frozen juice concentrate. My mother-in-law makes grape ice cream using grape concentrate, and it's really good but not at all vegan. I could do my own version using this recipe as a starting point. In sum: a wonderful concept; thanks for posting. Reviewed for the Vegetarian Swap 8/08
Combine the limeade and the tofu in a blender, and blend till smooth. Add water and pulse to combine. Pour the mix into the freezer can of an ice cream freezer, freeze according to instructions. Spoon the mixture into a freezer container, cover and freeze 2 hours or until firm. Or you may put the mixture into a plastic container, freeze for about 2 hours, then process in a food processor until slushy, then freeze again until ready to eat. Take the mix out of the freezer and let it soften just a little before serving.
Garnish with the mint and rind, if you like.
Yield: 5 servings.