gailanng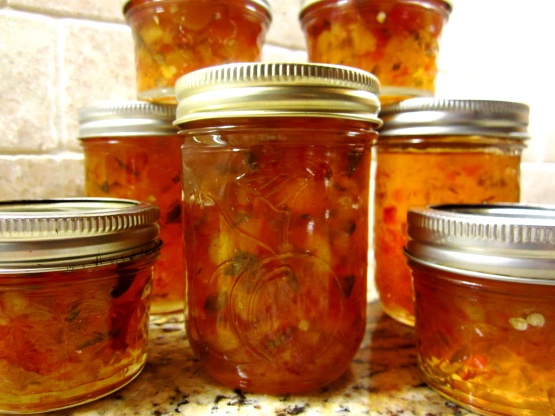 I love the jalapeno-fruit recipes to have at home and to give as gifts. With a nice wheat cracker, a little cream cheese and dollop of the jelly you have a nice snack or appetizer. The 'heat' from the jalapenos depends on how many of the seeds you leave in the jelly. A friend likes this on hotcakes, and we also like the jelly on biscuits.Try this, it will surprise you!
Place the jalapenos, pepper and vinegar in a blender (or food processor).
Pulse until small chunks remain.
Combine apricots, sugar and the pepper/vinegar mixture in a large saucepan.
Bring to a boil; boil rapidly for 5 minutes.
Remove from the heat; skim off any foam that forms.
Allow mixture to cool for 2 minutes.
Mix in the pectin.
Pour into sterilized jars, seal and cool.
(At this point I turn the sealed jars over several times as they cool for about 10 minutes at a time to keep the fruit nicely distributed in the jar).
* Note; It is an excellent idea to wear rubber gloves when working with hot peppers, they otherwise may make the hands burn. And don't rub your eyes!