Apricot, Banana and Buttermilk Bread
JustJanS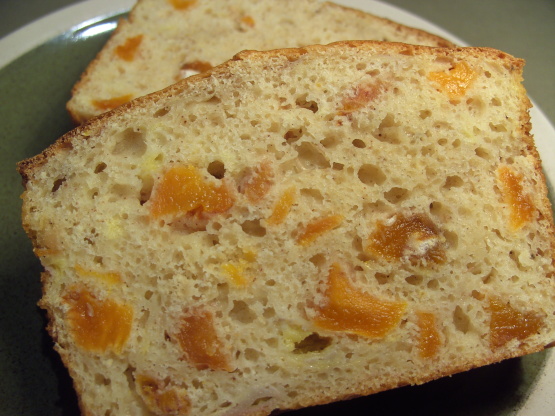 From Sanitarium, great for the lunch boxes.

Mandy, this is delicious. It was very simple to make and the result is a lovely dense, not too sweet bread that Russ and I are really going to enjoy over the next few days. I made it using all white bread and as I couldn't get Australian apricots, used dried Australian peaches instead.
Preheat oven to 180ºC. Line a loaf pan (base about 22cm long x 10cm wide) with non-stick baking paper.
Sift flours, baking powder, bicarbonate of soda, salt and cinnamon into a large bowl. Stir in sugar and dried apricots.
Combine buttermilk, vanilla, eggs and mashed banana in a large jug. Whisk until well combined. Make a well in the centre of dry ingredients. Using a metal spoon, gently fold egg mixture into dry ingredients until well combined.
Spoon mixture into prepared pan. Bake for 50-55 minutes or until a skewer inserted in the centre comes out clean. Cool in pan for 10 minutes then turn onto a wire rack to cool completely. Slice and serve.