Rita1652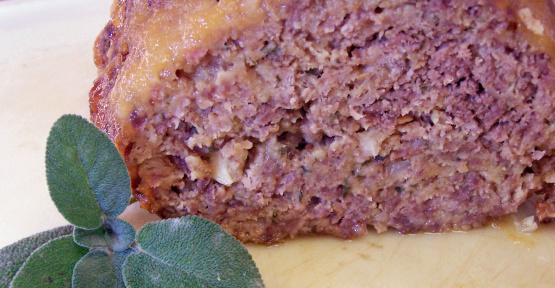 Lower calorie, moist and flavorful! Applesauce with chopped onion, adds flavor and moistness to an easy meatloaf recipe that topped with a brown sugar mustard glaze.

Top Review by awalde
Fantastic meatloaf!
I prepared the half of it and used as stuffing of 4 halved eggplants (lighly roasted prior filling).
I did not have apple sauce. and I replaced this in following way:
Stuffing, 2 peeled apples in small pieces placed in the microwafe with onion and garlic;
Sauce, 2 peeeld apples in small pieces placed in the microwafe and blended.
I served the sauce with stuffed eggplats like in the photo.
Preheat oven to 350 degrees. Cook onion and garlic in microwave for 2-3 minutes until tender.
Combine onion and garlic with sage, parsley and bread crumbs, 3/4 cup applesauce, egg, cinnamon, cardamom, salt and pepper in large bowl and mix well.
Stir in beef and pork and mix gently just until combined.
Shape mixture into loaf and place in a 1 quart baking dish. Bake at 350 degrees for 1 1/2 hours.
Meanwhile, make Apple Glaze. Combine 1 cup applesauce, apple liquour, mustard and brown sugar in small saucepan. Heat and stir until well blended.
After the meatloaf has been in the oven for 1/2 hour, spoon some of the apple glaze over and continue baking. Baste with the glaze every 20 minutes until internal temperature registers 160 degrees.
Remove from oven and let meatloaf sit for 15 minutes before serving.