Rita1652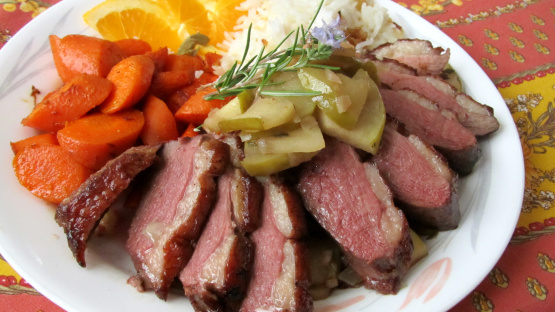 Only 5 ingredients. From Coup de Pouce.

Duckolious! I did place the duck that I seasoned with a touch of salt and pepper in a hot pan skin side down lowered the heat and let the fat render off for about 10 minutes. Then flipped and cooked for a couple more minutes. I did deglaze the pan with white wine and Korn an apple liquor. One breast can easily serve 2. Part of my Menu #45849
Oh if you like save/freeze the rendered fat for frying fries.
With the tip of a knife, do incisions like a checkerboard on the skin of the duck breasts, but DO NOT touch the flesh. In a large non-stick skillet, brown the breasts at high heat 4-5 minutes on each side, beginning with the skin side. Put the breasts in a not too deep ovenproof dish and keep cooking in a preheated oven of 350 F for about 8 minutes or until the flesh of the duck is slightly pink inside.
Meanwhile, deglaze the skillet by keeping 2 tablespoon of the grease. Add shallots and apples at medium heat, stirring from time to time, for about 3 minutes or until apples are golden. Pour apple juice in the skillet scraping the bottom with a wood spoon to remove the browned bits. Cook for 5 minutes or until liquid has reduced by half. Add rosemary and stir. Add salt and pepper.
When ready to serve, slice the duck breasts in bias ( / ) Distribute the slices in the plates and coat with the sauce.