Crispy Balsamic Duck Breasts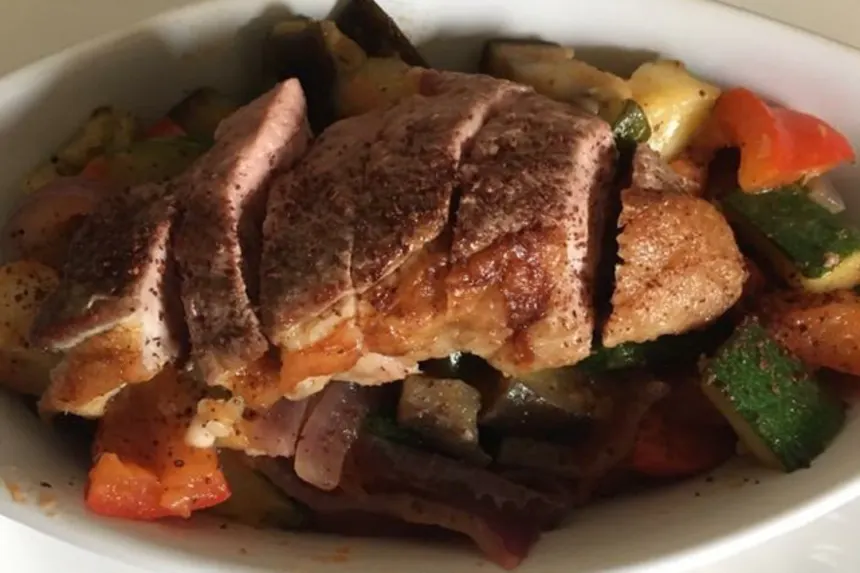 photo by The 500 Chef

Ready In:

20mins

Ingredients:

4
ingredients
5

tablespoons balsamic vinegar

salt and pepper, to taste

extra balsamic vinegar, for drizzling (optional)
directions
Using a sharp knife, score the duck skin (fat) with diagonal parallel slashes 1/2 inch apart to make a diamond pattern, being careful not to pierce through to the flesh.
Pour the balsamic vinegar into a shallow dish just wide enough to fit the breasts in one layer.
Add the duck, flesh (not fat) side down; cover and leave to marinate for 20 minutes at room temperature (can be marinated up to 2 hours refrigerated but remove for last twenty minutes at room temperature).
Heat a non-stick skillet over medium-high heat.
Add duck, fat side down and cook until crispy, about 5 minutes (covered to avoid spattering).
After the 5 minutes, carefully pour the rendered fat from the pan and wipe the outside of the pan of any grease that may have dripped there before placing back on the stove.
Turn the duck breasts over and continue to cook: about 5 minutes more for rare, 8 for medium rare, and 10 minutes for well done, but of course depending on the size of the duck breasts.
Remove duck from pan to cutting board and slice thinly against the grain.
Serve immediately, passing extra balsamic vinegar for drizzling if desired.
Reviews
The technique to cook a duck breast was perfect. I had relatively thin duck breasts so reduced the time on the flesh side rather than cut the time in half. This rendered more fat and had a crispy skin. I combined two recipe's on food.com - there is one for duck with cherry balsamic reduction that i used that recipe sauce instead of the balsamic in this recipe. After removing the duck, pour off any remaining fat, return pan to heat and deglaze with red wine, a bit of balsamic and i used cherry preserves stirred until mixed and reduced to consistency of a medium to thin gravy. Served with roasted vegatables and a mixed green salad. Turned out to be a very quick 'gourmet' dinner.

 

Delicious! Be careful with the "medium-high heat" setting. Although I followed the recipe, I burned the skin to a near crisp within the allotted time. I'm going to do this again when the breasts go on sale again. I did pass this recipe on to the chef at Baan Sawan Thai Bistro here in Columbia. I know he'll make it at home, but I'm curious to see if it'll it make it to his "tonight's special" board.

 
RECIPE SUBMITTED BY
I am an American married to a Belgian, and have lived in Belgium since December 1999. Cooking is my major hobby. I'm also an avid reader, but I have difficulty finding the time. I love to travel. Since moving to Europe I've been lucky enough to have had the opportunity to go a couple of times per year to Paris, as well as having visited London, Rome, Florence, Naples, Amsterdam, and of course Brussels and Antwerp. I've seen at least parts of most regions of France, as well as parts of Germany, Austria, a great deal of Switzerland, Slovenia, Croatia, Luxembourg, and Monaco. I'm absolutely in love with the Bay of Naples and Sorrento coast areas of Italy, which my husband and I recently re-visited on a trip that included Rome, Puglia, Umbria and Marche. I'm still looking forward to Ireland, Spain, Portugal, the Czech Republic . . . the list is too long ! One of the bonuses of travel is getting to taste the local cuisine, and afterward trying to figure out how to duplicate it at home. I think cooking is one of the nicest things a person can do for someone they love (including themself!) I had to submit a picture with me and my cat, Sophie, as she insists on sitting in my lap when I'm sitting at the computer. If you are wondering what all that stuff hanging on the wall behind us in the photo is, it is just a small part of my husband's military medal collection. He was appalled by my posting this picture-- Our study is the messiest room in our house (thank god!)
View Full Profile