Apple Cake With Maple Frosting
Kinwart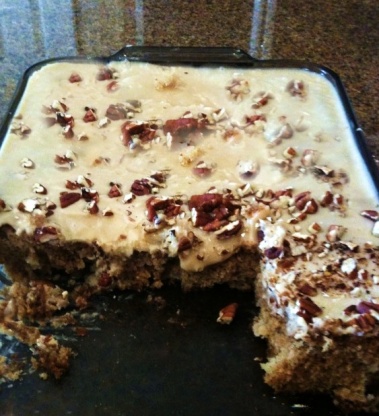 Comfort food, tender cake with chunks of apples, autumn spices and maple syrup frosting.

This was delicious! My whole family loved it and keep asking for me to make it again.
Preheat oven to 350.
Butter the bottom and sides of 9x13 inch baking pan.
Sift together the flour, baking powder, baking soda and other spices including salt and set aside.
In a large bowl combine the butter and granulated sugar. Beat on medium speed until light and fluffy, 3-4 minutes. Beat in eggs one at a time.
Using a rubber spatula gently fold in one third of flour mixture until fully incorporated. Gently, or the cake will be tough. Fold in 1/2 the buttermilk. another 1/3 of flour, then remaining buttermilk continuing to fold gently after each addition. Add remaining flour, apples the apples and nuts, if using.
Spread batter in prepared pan. Bake 35-40 minutes, watch closely DO NOT OVER BAKE.
Transfer to a wire rack and cool for at least 20 minutes.
To make the frosting, simmer the maple syrup in a sauce pan until it reduces by half, about 20 minutes. Remove from heat and add butter. Stir until incorporated and add vanilla and cream. Stir powdered sugar into mixture and beat with a wire whisk until smooth. Let it cool completely before pouring over the cooled cake.