Diana 2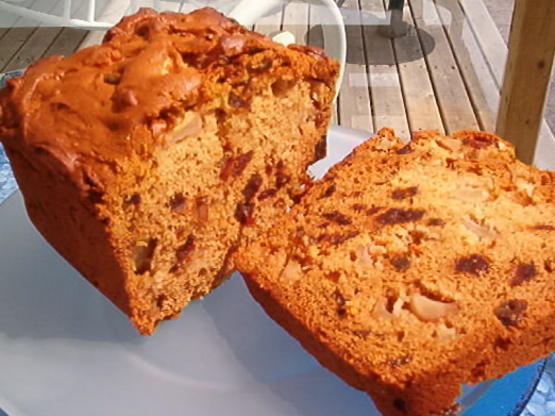 Typical New Zealand recipe. Apple from a tin is fine. A loaf tin for this is 25cm x 11cm.

Top Review by Mandy
This make a large batch so I got 2 small loaves & 6 muffins, I made as directed but cut the ginger powder back to 1 tsp & added 1 tsp cinnamon as I'm not a huge ginger lover and with the crystallized ginger I thought it may be too overpowering for my tastes. The end result was a lovely tasty, moist cake that the family enjoyed. Best eaten on the day of making or frozen.
Preheat oven to 180°C.
In a bowl put the dates, baking soda, apple, crystallised ginger, ground ginger and boiling water, stir well.
In another bowl mix the butter and sugar together and then beat in the egg. Gradually blend in the date mixture and sifted flour.
Spoon into a greased and floured loaf tin. Bake for 1 hour or until the loaf is cooked when tested with a skewer.
Cool in the tin for 10 minutes before transferring to a cake rack to cool.