IngridH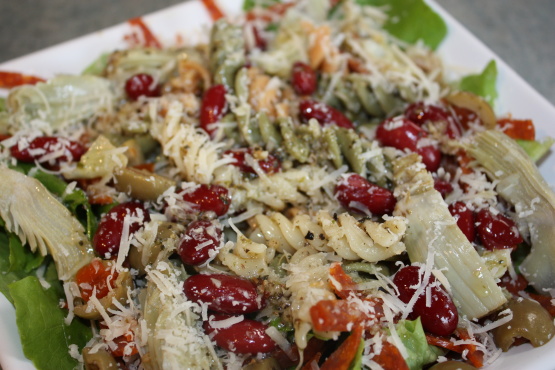 Taken from the 100 Best Italian Recipes - Brand Names

Really yummy! I omitted the tomatoes, which aren't in season yet, and added artichoke hearts instead. I also used homemade dressing instead of bottled. This was a really nice salad with both visual and textural contrasts to make it interesting. The tartness of the olives, creaminess of the beans, crunch of the lettuce, and bite of the pepperoni made for a wonderful eating experience. I cut this down to one serving, and instead of layering it in a serving bowl, just arranged it on a plate so that all of the beautiful ingredients were visible. This is the kind of thing I love to take to work for lunch, so I imagine I will be making it often. Made for ZWT7- Emerald City Shakers
Cook pasta according to package directions; drain. Cool slightly.
While pasta is cooking, arrange tomatoes and half of pepperoni around bottom edge of 3 quart glass serving bowl.
Layer cooked pasta, remaining pepperoni, beans, olives and cheese in bowl; drizzle with salad dressing.
Top with lettuce; cover and chill at least 1 hour or up to 24 hours.
To complete recipe, toss salad gently just before serving.
Note: prep and cook time does not include chilling time.