PanNan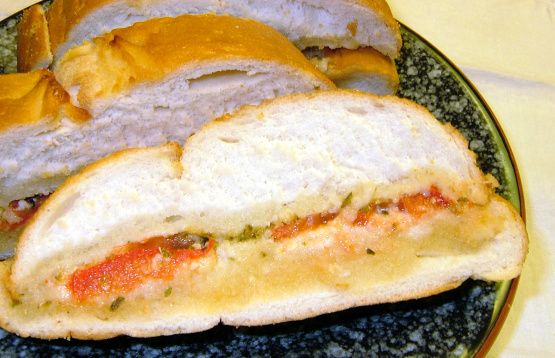 Growing up in a Italian household( dad's from Italy) I never had Garlic Bread. Once I had my own place, I decided to make it. You can serve it with a pasta dish, I am serving it with my steak dinner tonight.You may substitute italian bread for french baguette, however, baguettes tend to be larger and you may decide to adjust your ingredients.Butter may be substituted with olive oil, generously brushed on both sides of the loaf. For a bruschetta style garlic bread, I would add another tomato and dice them instead of slicing the tomato paper thin. Not for the calorie shy, carb addicts beware!

Yummy! I love garlic bread and the tomato in this recipe was a scrumptious addition. Thanks for sharing the recipe.
Split loaf in half length wise.
Generously cover both sides of the bread with softened butter.
Add garlic powder or fresh garlic to both sides of the bread.
Slice tomato into paper thin slices, add to ONE side of the loaf, the bottom side.
Add oregano.
Add parmesan cheese.
Close bread and wrap in foil.
Place in a 350 degree oven for 20 minutes.