Andagi (Okinawan Doughnuts)
MasakoHI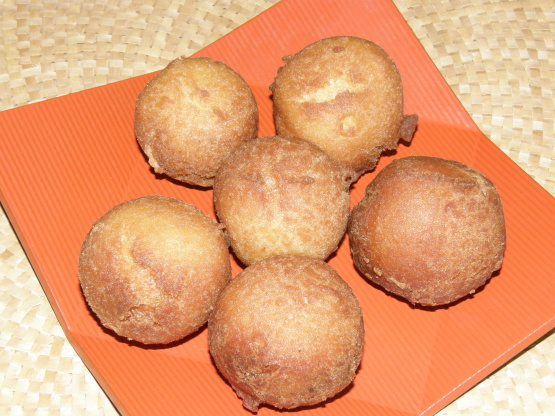 It's some what like a heavy cake doughnut . It is on the heavy side and not light and fluffy like a traditional glazed or sugar doughnut. Andagi is made annually at the Okinawan Festival in Kapiolani Park in Honolulu, Hawaii. They squeeze the dough out of their fists into perfect balls but I use an ice-cream scoop (small) to make the balls.

I made this for PAC 08'.....a little time consuming but delicious!! Not your typical sweet donut, but it's a great island tradition. Brings back memories of being on the island, thanks for sharing!!
Sift dry ingredients together (flour, baking powder, and salt).
Mix dry ingredients with sugar.
Beat eggs and mix with milk and vanilla.
Add egg mixture to dry ingredients and mix well.
Heat oil in deep pan to 350 degrees.
Use small ice-cream scoop and drop batter into hot oil. The temperature of the oil is hard to explain because any good cook will know that if it's too hot, your andagi will be burnt on the outside and undercooked inside. If the oil is not hot enough, the andagi wil be cooked but oily. The andagi should be golden to light brown when done, about 6 - 8 minutes.