Kana K.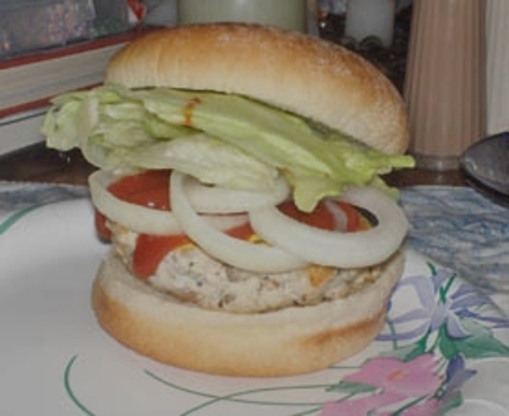 These are awesome burgers, not the dull flavorless turkey burgers your used to. Basic, easy and delicious.

I usually have trouble getting my beef loving husband to eat turkey meat but he ate this without saying anything. The burgers were moist and had a nice flavor. Thanks Kana Kahuna. Bullwinkle
Mix Ground Turkey, onion powder, garlic salt and B.B.Q. sauce in large bowl
Shape into 4 patties and and put in fridge covered for 1 hour. (this helps hold the patties together when grilling).
brush burgers with a little olive oil before placing on grill.
Place patties on grill or B.B.Q. over medium coals.
Grill 7 to 9 minutes on each side or until cooked medium well.
Top each patty with American slices &.
continue grilling until melted. Fill buns with the works and turkey burgers.