Amazing (Vegan) Brownies!
bekajoi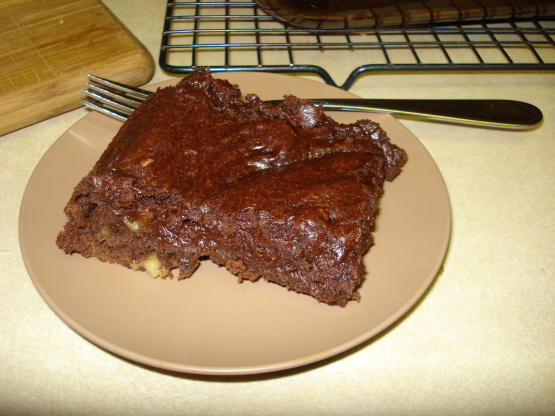 These are seriously the BEST brownies I have ever ever made from scratch. And I've tried a lot of recipes. (go figure, vegan brownies aren't supposed to turn out well, LOL) I use whole wheat pastry flour and raw sugar, and it's great!

I was so excited to try these brownies after Lady Clare's review, but mine turned out nothing like I'd expected. They were dry and crumbly, really dense, and lacked the rich chocolate flavor that I like in my brownies. I followed the recipe exactly, so I'm not sure what happened. I'm sorry I can't rate these higher!
Mix dry ingredients (flour, sugar, salt, cocoa, baking powder).
Mix wet ingredients (water, oil, vanilla).
Mix together, 50 strokes, or until well blended. Fold in nuts and chocolate chips.
Spread mixture into a greased 13x9" pan. Bake at 350 for 25 minutes, or until a knife can be inserted and come out clean.