katew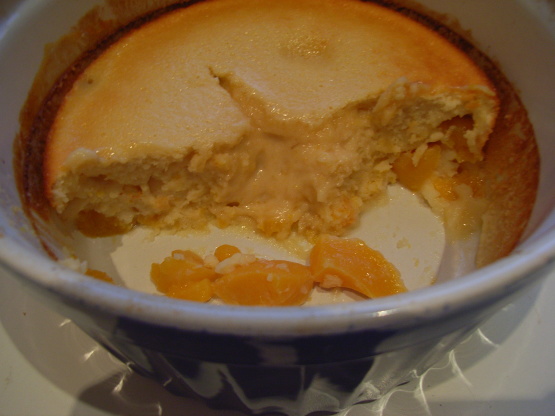 This French pudding is equally nice served at brunch or as dessert on your dinner table. However, it is imperative that you serve this warm. Adapted from Good Food Magazine, August 1987.

Top Review by Zuffi
I had some very good fresh peaches that I wanted to use in a baked dish. I remembered seeing Ina make an Apple Clafouti, which I've always wanted to try....well my search was on for the perfect Peach Clafouti recipe and I think this is it!! I was looking for one that incorporated almond, and the Amaretto was perfect. We enjoyed this warm with vanilla bean ice cream...very yummy! Thank you for posting.
Mix 1/4 cup granulated sugar and the liqueur in mixing bowl.
Add peaches and toss to coat. Let stand at room temperature 30 minutes.
Heat oven to 350 degrees.
Generously butter 9" round baking dish or glass pie plate.
Toast almonds on baking sheet until light brown, 7-10 minutes. I.
ncrease oven heat to 375 degrees.
Process eggs, egg yolk, and remaining 1/2 cup granulated sugar in food processor fitted with steel blade until blended.
With machine running, add butter and flour through feed tube; process 30 seconds.
Add milk, almond extract, 3 peach slices, and all the liquid from peaches; process until smooth, about 30 seconds longer.
Pour enough batter into prepared dish to measure 1/4" deep.
Bake just until set, 5-7 minutes.
Arrange peaches over baked batter and sprinkle with almonds.
Cover with remaining batter.
Bake until puffed and top is browned, 35-45 minutes.
Let cool slightly on wire rack.
Sift confectioner's sugar over top and serve warm, topping each serving with a dollop of whipped cream.