Food.com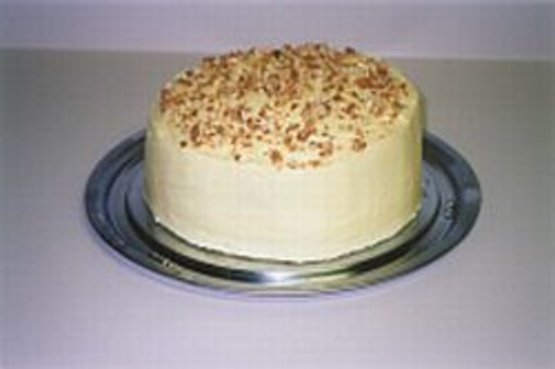 A small simple cake with a slight almond toasted almond taste. Really out of this world. You can substitute almond extract for 3/4 of the vanilla if a stronger almond taste is desired. This cake employs an unusual mixing method that ensures good results.

What a piece of cake!! (pun intended) Looking at this recipe, I was a bit nervous. But I was able to get it in the oven in about 30 minutes. Steve's directions are very clear and easy to follow. The only deviance I made was using toasted whole almonds, with skin, and chopping them finely. I thought the extra flavor and texture would be nice. I used his Butter Cream Frosting #14307 to ice it, smoothed the sides, then sprinkled chopped toasted almonds on top. I doubled the cake and frosting recipe and made a layer cake. Next time I will sprinkle almonds in the filling layer as well. Beautiful presentation, and delicious results! (this was my first time using a butter based frosting- and I learned a few things. I had made the cake and frosting the night before, because I wanted the cake to cool thoroughly (work schedule constraints). I figured to just assemble and frost in the morning. I should not have put the frosting in the fridge. It was too hard to spread. So I put it in a piping bag, which worked well, until you got to the bottom - and that part was melted from my hand-heat. I ended up piping the unmelted frosting all over the cake, then smoothing it with a frosting spatula. It turned out wonderful. And I learned something in the process. win-win! :))
Combine eggs, extract and 1/4 of the sour cream in a small bowl.
Cut butter into chunks.
Put remaining sour cream in another small bowl.
allow all ingredients to come to room temperature while you prepare a 9" springform pan, line bottom with parchment, grease and flour.
You can use a 9x2" round pan as well, but it will be a bit more difficult to unmold the cake.
Toast almonds in a 350 degree F oven for 7-8 minutes, cool then grind fine, (I use a bag and rolling pin)-- if using dry measuring cups be sure to grind first then measure.
Sift all dry ingredients into the workbowl of your mixer and mix on low speed for 30 seconds to combine.
Add softened butter and sour cream, mix on low to combine, scrape bowl, beat on medium (med-high for a hand mixer) for 90 seconds.
This will aerate the cake and give it structure.
Scrape the bowl down and in two additions add the egg mixture, beating for 20 seconds after each addition.
Scrape the bowl one last time and give it a couple pulses.
Pour batter into prepared pan and bake for 40-50 minutes, (rotate pan 180 degrees after 25 mins) a toothpick inserted in the center will come out clean and the top of the cake will spring back when lightly pressed.
Remove from the oven and cool on a rack for 10 minutes, remove sides of pan and allow to cool to room temperature, about 2 hours.
Cake can be sliced and filled with chocolate ganache and/or frosted with any butter cream.
It's delicous slightly warm with just a dusting of powdered sugar too!