Almond and Strawberry Bread
LAURIE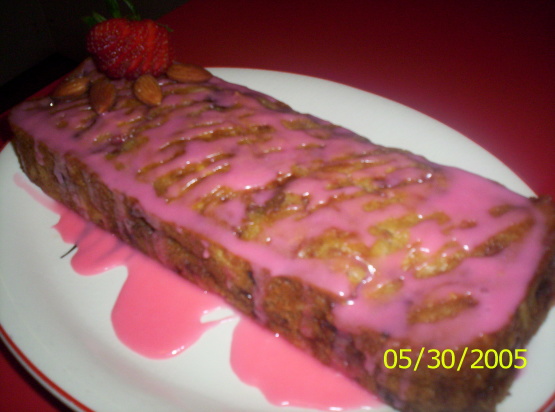 What better way to welcome spring than with this sweet strawberry bread! Yogurt makes this bread very moist and almond extract makes it sweetly delicious! Tint the icing pink if you wish, for a pretty, spring-y look.

Zero stars. Mine was a gooey, nasty, uncooked mess. It stuck to a non-stick loaf pan that was sprayed with PAM! The edges that did cook had no strawberry flavor. I wish I had my ingredients, time, money and energy back. I followed the recipe precisely. Don't know what went wrong. I've never had such a disaster. Maybe it was my oven. I don't blame anyone but myself.
Preheat oven to 350 degrees F.
Grease a 7-1/2 x 3-1/2 inch loaf pan (actually, any size works; adjust baking time accordingly).
In a small bowl combine flour, baking soda and salt.
In a large bowl, cream together sugar and butter; add egg and almond extract and beat until fluffy.
Add flour and yogurt alternately to creamed mixture.
Fold in almonds, then strawberries.
Turn batter into prepared pan and bake 45 to 50 minutes at 350 degrees F or until toothpick or knife inserted all the way to bottom comes out clean.
While bread is baking, combine the glaze ingredients.
Let bread cool in pan.
While bread is still warm, drizzle with almond glaze.