Algerian Mchewek - My Traditional Family Recipe!
Coasty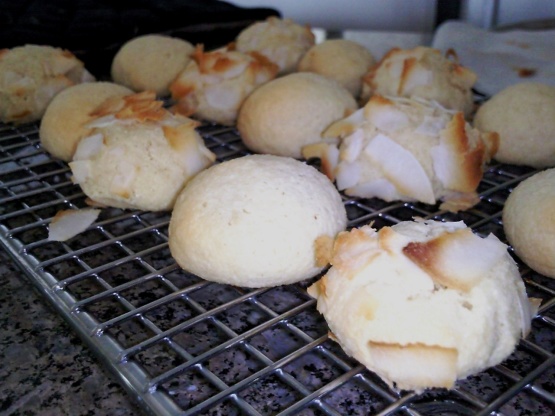 Mchewek are small balls of mainly almond filling which are moist and slightly chewy on the inside while crisp on the outside. Simple to make but incredibly delicious...
709.77

ml ground almonds (ground in food processor) or 709.77 ml desiccated coconut (ground in food processor)

236.59

ml granulated sugar

3

small eggs (approx)

7.39

ml baking powder

4.92

ml vanilla powder or 2.46 ml vanilla extract

118.29

ml chopped sliced almonds (to roll onto) or 118.29 ml desiccated coconut
glace cherries, to decorate
Put ground almonds or coconut, baking powder, sugar and vanilla in a large bowl and mix well (traditionally with your hand). Slowly incorporate the eggs until a firm paste has been achieved.
Make small balls from the dough - slightly larger than a malteser or olive. Roll each ball in the chopped flaked almonds or coconut and coat well.
Place the mchewek balls on a baking sheet which has been greased and lightly floured. Put 1/4 a glace cherry on the top in the centre of each mchewek.
Cook in a preheated oven at 170c for approximately 12 minutes or until almonds have turned a pale golden colour.
Allow to cool before placing in small bun/sweet cases (optional).