Debber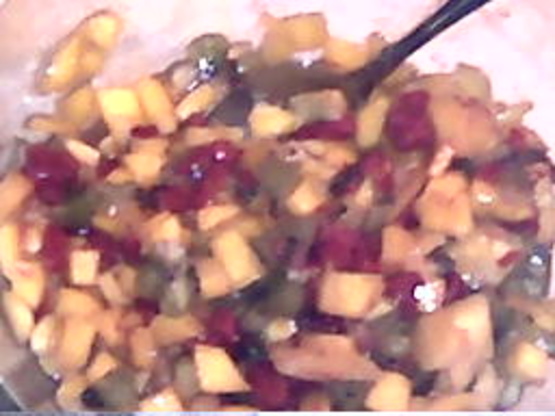 My source for this unique salsa is allrecipes.com & I admit to renaming it for pers reasons. It was posted by HECHICERA & the intro said "This delicious salsa is perfect served w/grilled chicken or pork. You can try diff fruit variations including pineapple, apples, etc." Just imagine what a hit this would be at a patio party ... almost like a chutney w/an attitude! :-)

Top Review by Debber
Such a colorful salsa! Nice combination of flavors. We substituted frozen strawberries for the fresh (rural stores don't always carry those "exotic" ingredients in the middle of winter!). The rum lends a very nice depth to this salsa. I will make this again when I have fresh berries AND mint from the garden.
Stir together mango, strawberries, kiwi, jalapeno, mint & rum in a glass bowl.
Refrigerate 1-3 hrs, stirring 1-2 times.