Acadia's Crock-Pot Chicken Cacciatore
teresas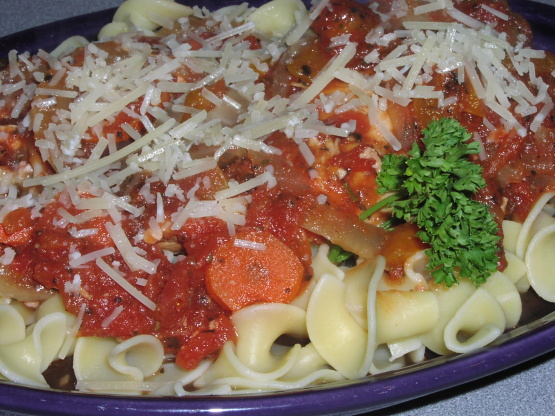 This recipe was created with items I had in my pantry. I own and use a 3-quart Crock Pot, but you can adapt this recipe to any size vessel. I serve it with mashed potatoes, but you could use pasta or rice or what have you. I also serve crusty Italian bread with it. Enjoy!

Made for my dear friend Acadia and the Think Pink Swap 10/2010. G/F this is great! I made enough to freeze 2 batched for Mike and I. We had it over thin wheat spaghetti noodles and the flavors all melded real well. Tomorrow's leftover will be all that much better.
Super simple to put together with my garden tomatoes, peppers, onions, basil and oreagano added in. YUMMY!
In 3-quart crock-pot add in this order: chicken, tomatoes, olive oil, onion, carrot, bell pepper, black pepper, salt, Italian spices, basil, parsley and sugar.
Place lid on, cook on low for 6-8 hours.