gailanng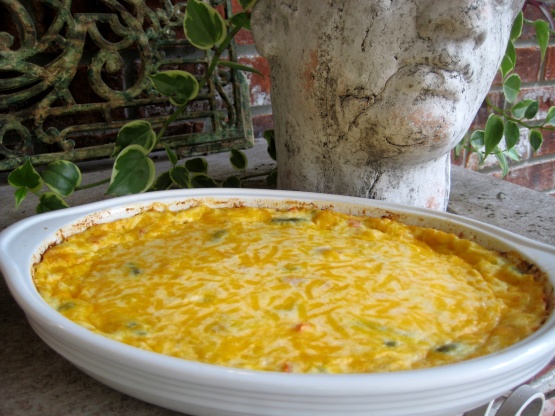 My bosses wife swears by this recipe for leftovers. I have used it many times, make a good meal or sidedish.

I didn't use leftovers as I usually don't have any. I cooked up 1 cup of frozen corn, 1 cup of brussel sprouts and 1 cup of lima beans, then used them for the three cups of vegetables. I figured leftover veggies would have been cooked...lol. One bite and my husband said, "This is definitely 5 stars!" I had a big dinner in the works (was serving in courses), but he ate two huge plates and was too full to eat much else. I will definitely be making this a lot. In the past I've thrown those 1 cup leftovers in the garbage, but now I think I'll dedicate a bowl for accumulating 3 cups of veggies in the freezer for this casserole. I can see it wouldn't hardly matter what vegetable you used, it would still be good! Thank you for sharing this recipe Tara. It is delicious!!!
3

cups cooked vegetables (any leftovers will do from corn to tomato to broccoli to lima beans so use anything)

2

cups milk
1⁄4 cup margarine

3

slices bread, cubed
1⁄4 teaspoon salt
1 1⁄4 cups grated cheese

3

eggs, beaten
Scald milk with margarine.
Remove from heat, add bread veggies, salt, eggs and 3/4 cup cheese.
Mix together and pour into a 4 quart greased casserole, top with remaining 1/2 cup of cheese.
Bake at 325 for 40 min.
Want some extra flavour use half evaporated milk.