3 Minute Whole Wheat Bread
Marlitt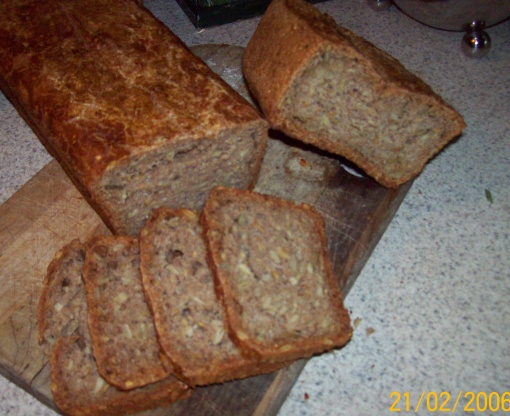 This is too simple, and no bread machine required. This makes a beautiful and really healthy bread. I was really skeptical when a friend gave me this recipe but the result was great. The 3 minutes is prep time it does take an hour to bake.

This was def. easy to make, very good if you dont have much time on your hands. I made this while I was watching the kids I watch some weekdays, so it HAD to be easy if I could double task like that lol. The loaf I thought came out a little too dense for my liking. I used a mixture of sesame and flax seeds to make 3/4 cup. Over all a nice loaf if you are to busy to worry about fooling around with the "regular" bread recipes.
In a medium bowl dissolve the yeast in warm milk ( not hot).
Add the rest of the ingredients (very important, do not forget the vinegar) and stir well.
Pour dough into a 5 x 9 loaf pan.
Place into a cold oven and turn the heat to 400°F.
DO NOT LET THIS DOUGH RISE BEFORE PUTTING INTO OVEN AND OVEN IS COLD.
Bake for 10 minutes then cut a slit in the top of the dough.
After 40 minutes of baking you can brush the top of the loaf with butter or an egg wash.
After 60 minutes reduce the heat to 350°F then bake another 50 minutes.
Remove the bread from the pan and bake another 15-30 minutes.
Bread is done when it sounds hollow.