Kim127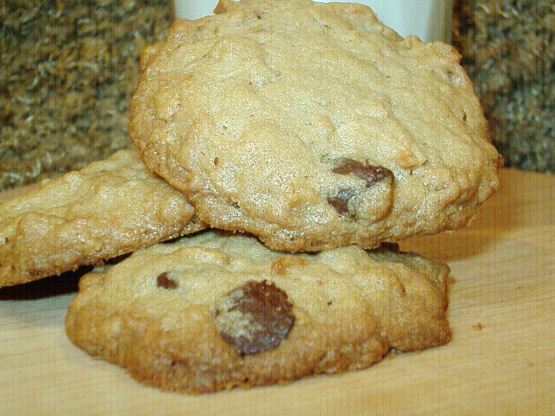 These cookies are crispy and crunchy and have a nice twist on the normal chocolate chip cookie. You can add as much chocolate chips as you want but I personally enjoy these cookies with only a little bit because there is so many other great flavors in the cookie without the chocolate.

Top Review by Kim127
This recipe came out just as stated in the description. Crispy and crunchy and so very yummy. I really enjoyed these and I think I like the Rice Krispies in them the best. I used the coconut and increased the chocolate chips to about 1/2 cup. Wonderful with a big ol' glass of milk!! Thanks Teen Chef!!!
Preheat oven to 350°F.
DO NOT USE BEATERS!
Combine rice krispies, oats, coconut and chocolate chips; set aside.
In a large bowl cream both sugars with margarine, add eggs then add oil and vanilla.
Combine flour, baking soda and cream of tarter and stir into rice kripies mixture. Add to creamed mixture and mix until ll ingredients are blended.
Drop or form into balls and place on a lightly greased cookie sheet, flattening with a fork. Bake for 12-15 minutes or until lightly browned.