Yukon Gold Potato Gratin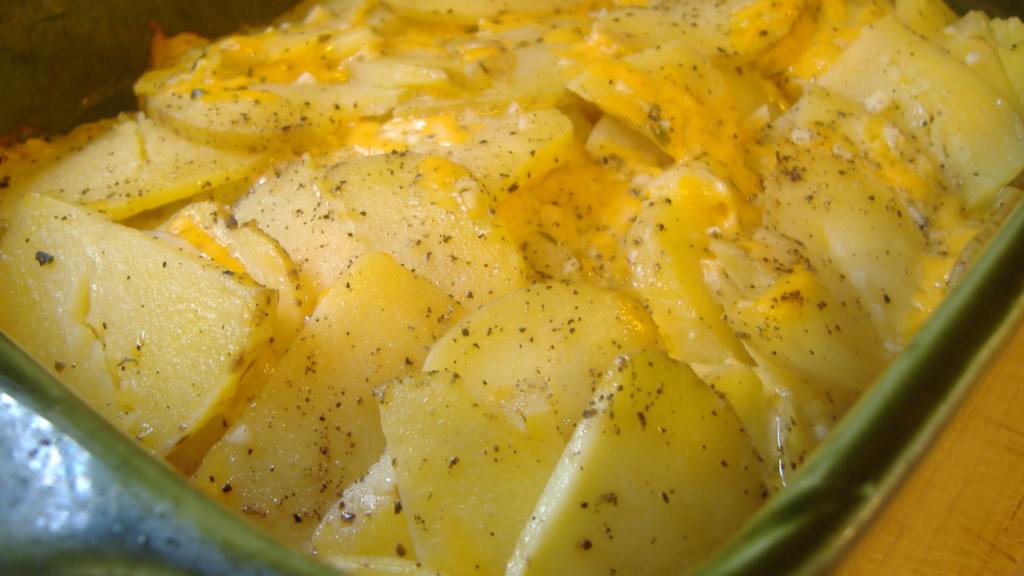 Ready In:

1hr 5mins

Ingredients:

11
directions
Heat oven to 400 degrees F. Butter a 9-inch round or oval baking dish.
Slice potatoes 1/8-inch thick and combine thoroughly in a mixing bowl with 1/2 cup cheddar cheese, the sour cream, olive oil, garlic, thyme, salt, and pepper.
Arrange potatoes in a neat overlapping pattern in the baking dish. Pour chicken broth over potatoes.
Bake 35 minutes, until potatoes are nearly-tender and the cheese and potatoes are starting to brown. Sprinkle with remaining cheese and bake another 10-15 minutes.
Garnish with thyme sprigs.
Join The Conversation
My BF who does not even like au gratin potatoes liked this dish. I have always been intimidated by making a gratin... Looks so difficult and time consuming in most recipes. This was sooooo simple to prepare. I loved the fact that there was not a heavy cream sauce all over the potatoes. I sliced the potatoes by hand and used a "seriously sharp" cheddar cheese ( that's what was on the package!) FF sour cream, and homemade chicken stock. Mixing the potatoes with all the ingredients was a little difficult since I was trying so hard not to break up all the potato slices... so instead I just used my hands to gently "massage" all the ingredients on. I didn't have any butter so I sprayed my 9 in square pan with olive oil and then layered the potatoes in. It cooked to perfection in about 40 minutes... Loved it! Had a little crispy edge to it and the potatoes were just soooo tender! Thanks for a lovely light potato dish!

I might not of prepared this correctly, but the cheese left quite a bit of oil at the bottom of this dish. It was "ok" but certainly not something I would serve again. I follow each recipe the first time exact. I am not sure if I even like Yukon Gold Potatoes as this was my first experience with them. The recipe instructions were clear and the recipe over-all was VERY easy to prepare.